Latest Articles
January 2, 2022 • City Journal
As Bill de Blasio's tenure as mayor of New York City concludes, it is worth examining how he dismantled the foundations of the city's decades of success. Studying de Blasio's tenure can give incoming mayor Eric Adams a road map for doing things differently—and differently, in this case, means better. Understanding New York's recent history can also help provide the city with a long-term direction. A resurgent Gotham would send a powerful message of confidence, nationally and internationally. Looking closely at the de Blasio years can help expose not only what the mayor did wrong but also what should be done to reverse the city's slide.
December 31, 2021 • National Review
America faced another challenging year in 2021, Dear Reader, and so once again I sought solace in the printed word. Pandemics can linger, prices can rise, and elections may not go your way, but books are always faithful companions in turmoil. It was with that attitude that I approached 2021 and the many books it had to offer.
December 21-28, 2021 Issue • The Washington Examiner
The last year was rough in many ways, not least in that we lost many conservative heroes — and at least one rogue. It takes many components to build and sustain a movement, and conservatism suffered losses in many disparate categories: communicators, thinkers, politicians, funders, and entertainers. These individuals helped make for a vibrant, if raucous, movement that at times could reach outside of the conservative ghetto and make its points to a broad audience.
December 5, 2021 • Politico
To really cut someone down to size, give them a brutal nickname they just can't shake. That's a rule as familiar on the schoolyard as it is in the White House.
The infighting that consumed Donald Trump's administration was no secret, but the recent onslaught of insider-y books on his presidency has delivered new texture about the gossipy backstabbing that took place — sometimes with real world ramifications.
December 5, 2021 • City Journal
Bob Dole tried and failed to reach the White House several times, but he leaves a powerful legacy as a war hero and senator who served the United States with honor, sacrifice, and humor.
Dole was born in Russell, Kansas, in 1923. He was a star basketball player in his youth and served in the Army in World War II. He was grievously wounded in combat in Italy in 1945, hit by a German shell in the upper back and right arm and not expected to recover. But he did, through grit and determination, though he permanently lost the use of his right arm. He would forevermore shake hands with his left, something he learned to do so as not to make the people he met uncomfortable.
Books by Tevi Troy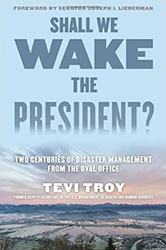 http